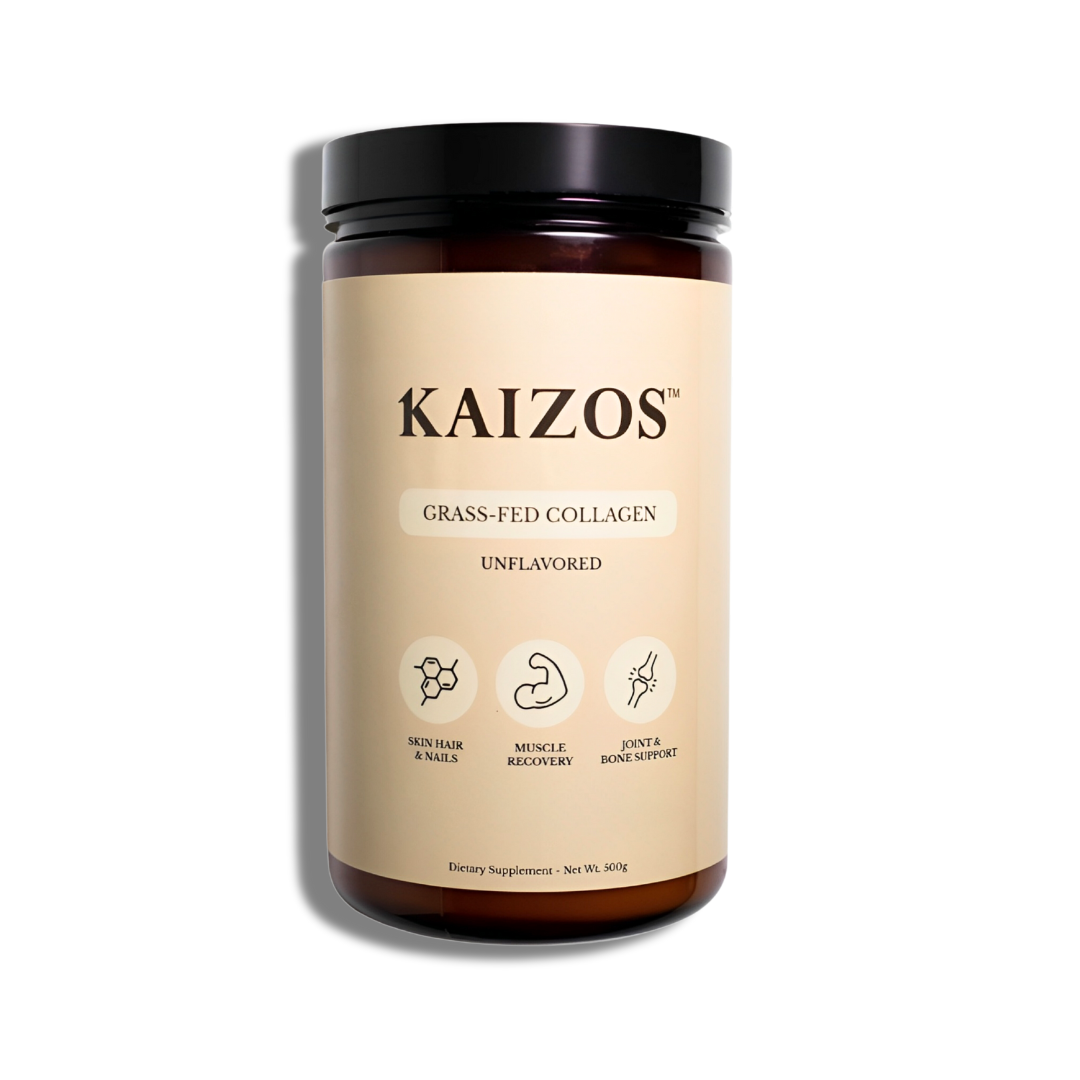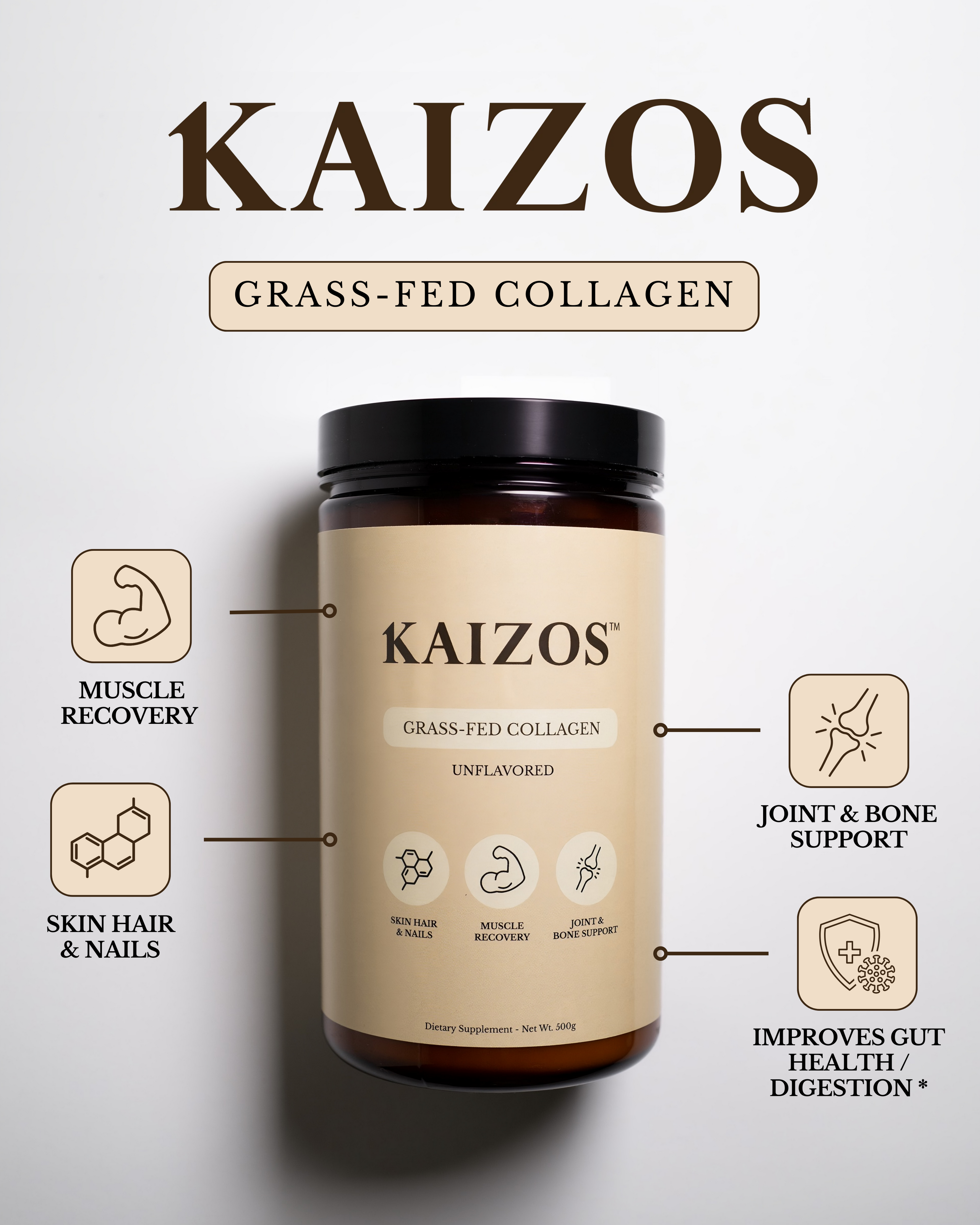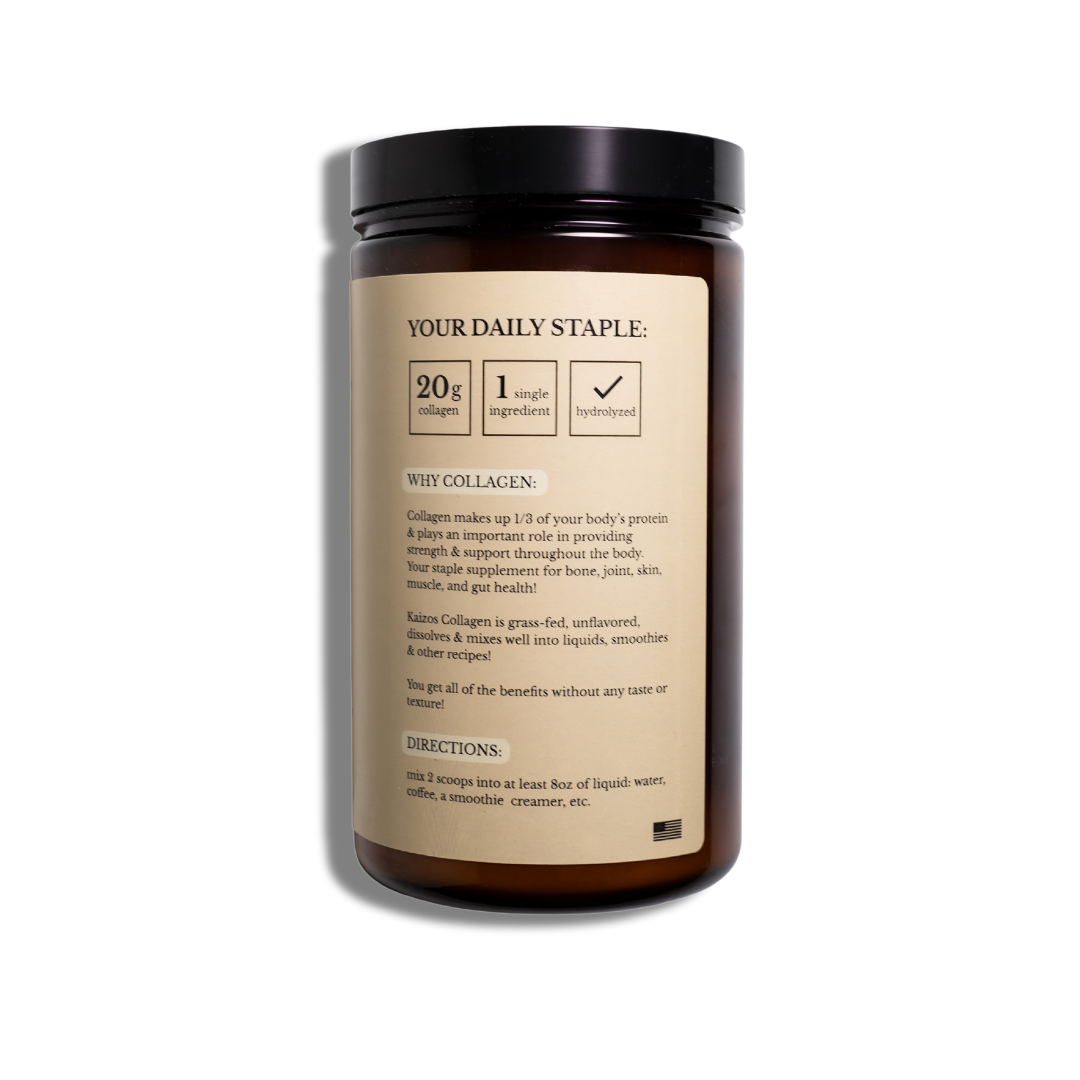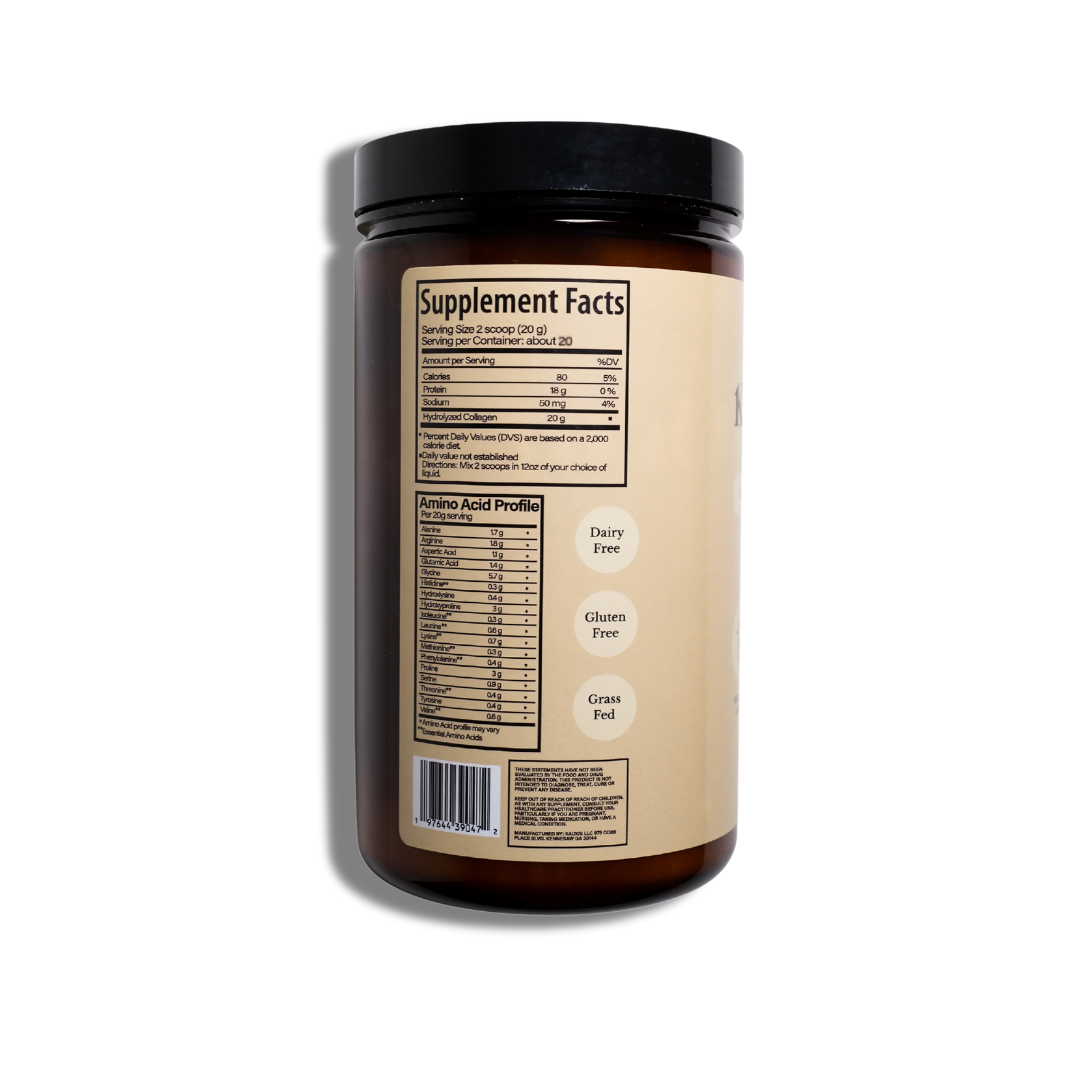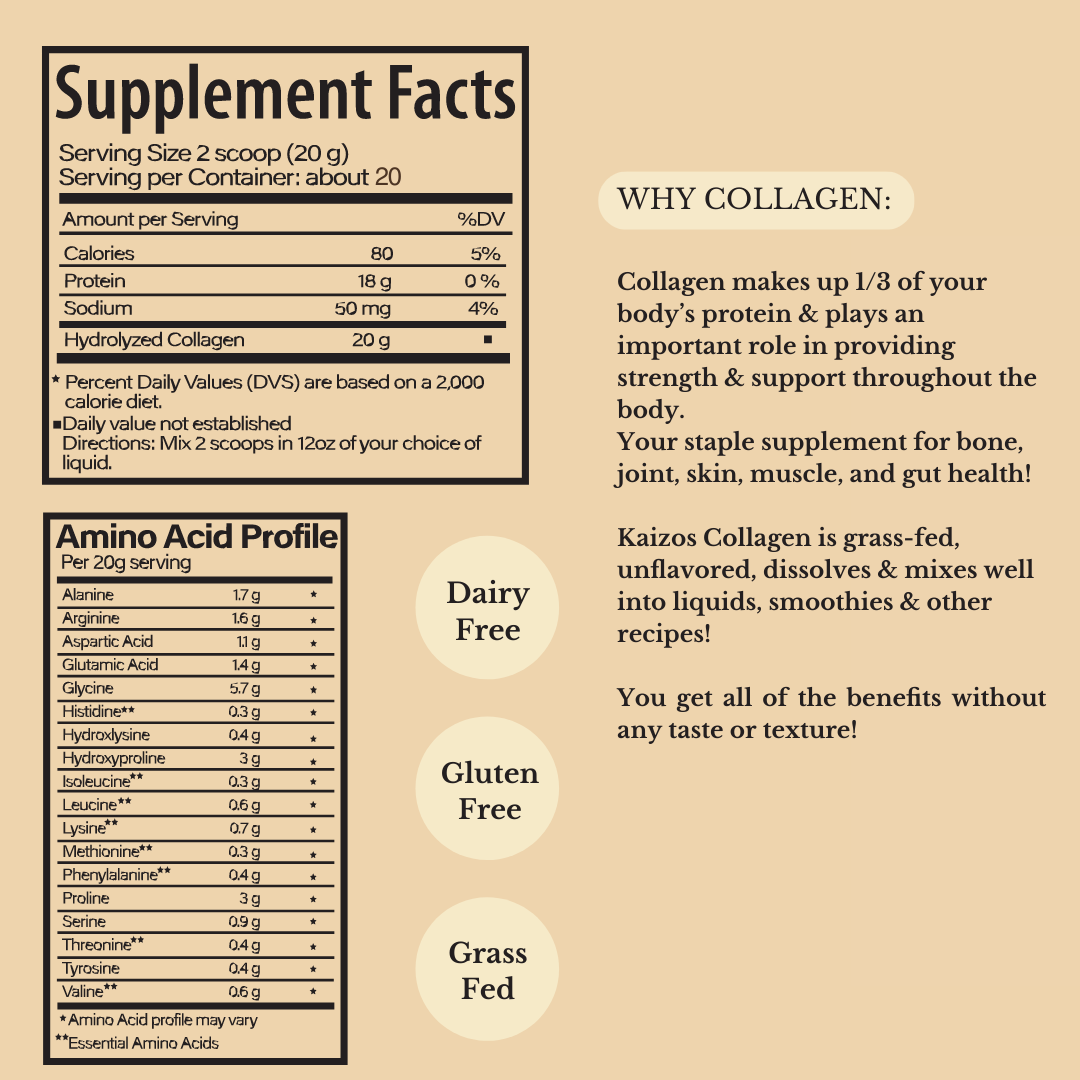 Grass-Fed Collagen Unflavored
ONE SERVING • EVERY DAY • 1% BETTER
Description
Our Grass-Fed Collagen Protein is the perfect addition to your daily routine. A single serving provides 20g of bovine collagen derived from quality grass-fed cows to help support muscles, joints, skin, and gut health.
ONLY 1 INGREDIENT & no flavor added, you can easily add it to your smoothie, coffee or baking. Our body's collagen production slows down as we age, LET US HELP!

How to Use
Mix 2 scoops into at least 8oz of liquid: water, coffee, smoothie, creamer, etc.
OR
Mix 2 scoop into a dessert smoothie, mug cake, bake with it, list goes on! This is the fun part!
Details:
Hydrolyzed Collagen
Grass-Fed Brazilian Cows
20g of Collagen
20 servings
Highest Quality
Cheaper than any other brand ;)
Grass-Fed Collagen Unflavored
JOINT & BONE SUPPORT
Critical Protein that gives structure for Strong Bones & Joints*
GUT HEALTH
The amino acids support your GUT WALL & help repair your GUT LINING*
MUSCLE RECOVERY
Collagen's high amino acid count helps repair & build broken down muscle*
HEALTHY SKIN
Collagen is the glue that holds your body together - promoting Hydrated Glowing skin*
GRASS-FED
Our Brazilian cows are grass-fed & we would have it NO other way!
ONLY 1 INGREDIENT:
Grass-Fed Collagen - A protein made of amino acids that improves gut health, build / repair muscles & tissues, & healthy skin!
Why Collagen?
Collagen is the most abundant protein in your body, making up 1/3 of your body's protein! It is the glue that holds the body together! It plays an important role in providing strength & support throughout the body.
BUT, our collagen production begins to SLOW as you age, starting at 25 ...
Kaizos Grass-Fed Collagen is your staple supplement for bone, joint, skin, muscle, and gut health!
ONLY INGREDIENTS WE BELIEVE IN